OVER
500,000 WOMEN

ARE ON THEIR FITNESS JOURNEY WITH US.
NOT CONVINCED?
CHECK OUT THE RESULTS.
These Booty Bands are amazing! They are super stable and comfortable on your skin. I always had the problem that bands don't stay in their place and roll up, but that won't happen with these! They are so strong that I can even reach hypertrophy when I do isolation exercises for my booty.
Sara-Sophie S.
– Verified Buyer
Great bands, and they come with a book of exercises to do with them which is fantastic and super helpful! The app is great to if you want clear guidance and great programs. I've been sore everyday after working through the program on that app. A purchase I will never regret!
Olivia M.
– Verified Buyer
"I'm 35 yrs old, wifey & a momma of 3 beautiful girls. Sometimes are busy life's keep us from not wanting to workout. But ladies it's self care & we all need it! Believe it or not I normally workout with my bands 20- 30 min 4-5 days a week with these bands."
Hannah M.
– Verified Buyer
I started out with the Booty Bands and added the Body Bands as soon as they came out. Fantastic for upper body, lower body, core and just about any exercise you can imagine. As a Personal Trainer, I recommend these bands to all my clients to have in their collection of equipment!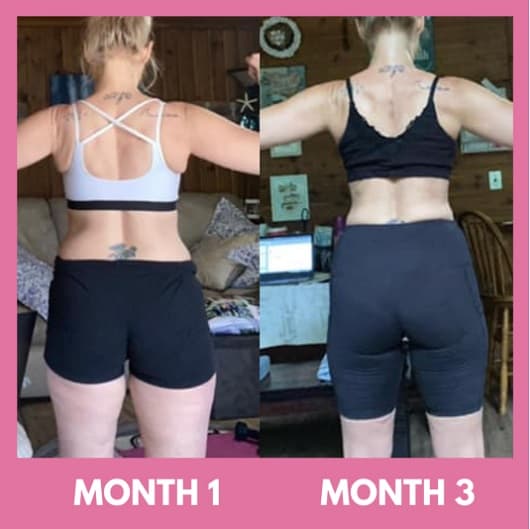 High quality resistance bands! ⭐️⭐️⭐️⭐️⭐️
I was looking for quality resistance bands and decided on these. I tried the Arena Strength Booty Bands and found their quality to be excellent, so I thought I would try these. Like the Booty Bands, they are very well made, with an informative instructional booklet PLUS access to online resources which appear to be helpful and supportive. I look forward to exploring the online resources and videos in the future, but in the meantime, I am enjoying using the Arena Strength bands as a major component of my weekly workout routines. (I also like supporting a women-owned business.)
Perfect for building your glutes!⭐️⭐️⭐️⭐️⭐️
I'm now only using the gray and pink band cause the black one is too heavy for me. The products are great quality, you can forget about the rubber band. These Arena band won't roll no matter what exercise you're doing, they will hold where you want them to be. I've been using them to activate my glutes and during my workout. If you think they are expensive, they are not! It's worth the price for what you get. Don't hesitate, buy them!
Super fast delivery. The bands are great quality, they are as described and do not roll up or slide down. Superior to the latex bands. The added exercise guide is a great bonus, very handy! The bands allow for super effective home workouts.
These bands are super durable and they do not roll or move at all lol I'm super impressed. They do the trick too, so be prepared to put in work....they won't make it easy for you but that's the beauty of it because the booty and legs afterwards....will have everyone shook lol let's get it!!!