Hi, we're Arena Strength! 3 years ago, we set out to revolutionize strength training for women – and we did.
It started with our founder Erin Young. Erin had injured her lower back, and was forced to rehabilitate using cheap, plastic resistance bands. Frustrated by the way these bands would snap, slip, roll and perish, she set out to find a better solution. And find one, she did.
From there, Arena Strength has developed into a flourishing line of successful products, loved by our community across the US, UK, Australia and Canada. We've gone from booty building to body toning with our Body Bands, comprehensive workout routines with our Train With Arena app, a growing range of nutrition products and an online community of 50 000+ women who support and uplift each other.
Our team is our superpower. Every product is created for women, by women. We understand that every woman is different and we keep that top of mind in our designs. No matter your size, shape, age or ability, our products are suitable for you and easy to incorporate into your lifestyle. We're here to support you, so if you've got any problems or questions for our trainers just reach out to our friendly team via email (or the form below). We strive to answer every query within 24 hours.
We're always listening to our ladies and keeping an eye out for new products to benefit our community. If there's something you'd like to see from us, drop in and say hi! We'd love to hear from you.
In the meantime, we hope you LOVE your Arena products and stay connected with us via our supportive Facebook Group.
Happy training!
Love, Team Arena xx
WE'VE HELPED OVER 500 000 PEOPLE WORLDWIDE
OUR APPROACH TO RESISTANCE BAND TRAINING
Every woman is different.
At Arena Strength, these differences are celebrated and inform the way we operate. Since every woman trains differently, we know that "just bands" isn't enough to support you on your journey. That's why you can count on these three things with every Arena purchase: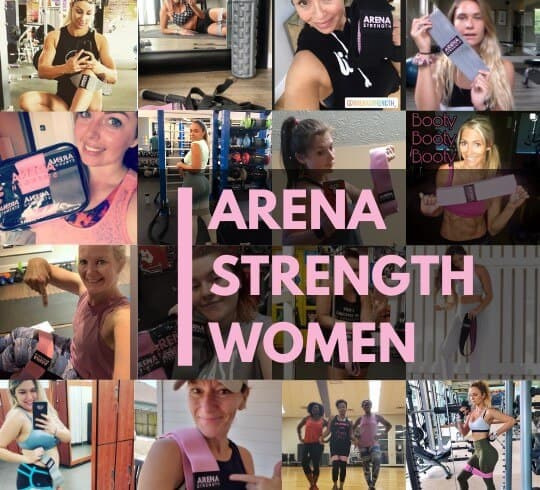 When you buy with Arena Strength, you know you don't have to go through your fitness journey alone. Every customer is welcome to join our Arena Strength Women group on Facebook; a place where we support and encourage each other, share progress pictures, upload weekly workouts and answer your fitness questions. Our community is 50,000+ women and counting!
Our Booty and Body Bands are made of high-quality fabric that will NEVER break, roll or stretch out. It is also comfortable on your skin. Our Booty Bands also offer a non-slip latex inner lining. Once you've purchased your first set, you'll never have to replace your bands.

To ensure every customer receives the best we can offer, our manufacturing process is strict. Samples in every box are tested for stretch, colour fastness, material quality and strength.
Having the right equipment is only half the battle. If you're not doing the correct exercises or following an effective routine, then you won't see the results you're after. That's why every band set comes with a proven workout guide and nutrition eBook, to see you making the progress you want. If you're after even more, our Train With Arena app goes a step further with day by day exercises, follow along videos and new workouts every month!
STEP INTO THE ARENA, WITH US.
HELPING YOU TO BE YOUR BEST